Meet the IBEX Team: Peter Wurz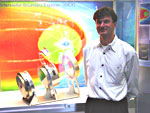 Imagine working with a partner to create a project for a science fair - only your partner lives halfway across the world! How would you work together to make a successful model volcano or build a working rocket when you live across an ocean and several time zones away?
The IBEX team works with partners all over the world to design and build the IBEX spacecraft for NASA. In spite of geographical obstacles and time differences, they successfully work together by scheduling early morning or late evening phone conferences, communicating via email, and flying around the world to collaborate face to face!
In Switzerland, Dr. Peter Wurz of the University of Bern develops the instruments to detect the interstellar gas for the IBEX spacecraft. In the past month, he has worked with engineers to finalize an instrument's mechanical design and negotiated contracts with the company that will build it. He supervises colleagues in Switzerland, but also works closely with scientists, engineers, and contractors based in Maryland, Texas, New Hampshire, and other places in the United States.
Peter was surprised to discover that unlike other branches of science, space science is truly international. "The different thing about space science is that it's really large, international teams. It's a much broader picture; there are collaborators all over the world. You really work together with them on a project. In other types of science, you meet with others once a year at conferences to exchange research. In space science, you collaborate with an international team to make all the parts of the project fit together, and you really have to work together to do that. I didn't expect that at all," he said.
A relative newcomer to space science, Peter began his career as an electronics engineer before realizing that he wanted to study physics. He went back to school in his hometown of Vienna, Austria and earned a master's degree and PhD in physics, concentrating on solid state physics and materials science. "Nothing to do with space!" he said. While earning his degrees, he spent time studying at Vanderbilt University in Tennessee, and did a short stint at Stanford University in California as a Fulbright Scholar ("Still no space science!"). Later, he spent time working at Argonne National Laboratory outside of Chicago, studying buckyballs and DNA fragments. "There was still no space science anywhere in sight until I went to the University of Bern, and space science came into my life," Peter said.
At the University of Bern, Peter studied solar physics, and eventually developed technology to detect interstellar gas. This technology evolved into the detection instruments on the IBEX spacecraft. Although breaking into the space science field was a challenge, Peter read space science journals and attended conferences to catch up. "Now I see myself doing space science for the next 20 years," he said.
Working on the IBEX mission is only one of Peter's responsibilities. He splits his time between five different space missions. He also teaches classes and mentors graduate students at the university, which is one of his favorite duties. "The best part of my job is when I talk with my students about a science problem or solution, and also doing research when you get data from a mission. The flow of ideas, the thinking and the brainstorming, the realization of something happening by looking at a measurement - that's the nicest part," he said.
Peter thinks that a love of puzzling out solutions to problems is the most valuable characteristic a scientist can have. His advice to aspiring scientists is, "Maintain a level of curiosity. Be like a little child who looks at the world and says 'Why is it like that?' If you can maintain this curiosity and are looking forward to finding answers, then you will make it in science. There is no book about interstellar gas because no one knows much about it yet. If you can get excited about knowing this and being the first to answer it, then you can make it," he said.
He also recommends that young scientists be open to learning about a variety of topics. "If you are a scientist, you have to be open," he said. "You read papers and learn about things that are perhaps useful and perhaps not. Read something new and build upon it. Science is like a big puzzle and we're all contributing a few pieces. Sometimes you find a few key parts that help you see more of the image, sometimes you're really lucky and you see larger parts and get really excited. Now we are putting the pieces together for IBEX. It will be really exciting," Peter said.
Peter embodies this flexibility: not only is he open to new scientific ideas, he is also able to bend over backwards - literally! "I was a competitive artistic gymnast, and I still do recreational gymnastics. I'm also part of a team of a gymnastics coaches for a team of young competitive gymnasts, and my daughter is part of the team," he said.
Clearly, Peter's emphasis on teamwork as a gymnastics coach and as a member of an international space science team serves him well. "It's a great experience, working on IBEX," he said. "With IBEX, everything has worked out - the right people, the right time, the right topic - everything worked out and went well. It's very fortunate we were selected by NASA."